In the last twenty years, the internet has drastically changed the way we do daily life, from how we shop to how we stay informed and connected. As teachers, the web can be an incredible source of great ideas and helpful sites....but it can also be very time-consuming finding the sites that are the most helpful. During this series, I will be doing that research for you and highlighting some of the best websites out there for teachers.
Today's Featured Site:

This free-to-use site
allows you to quickly
create your own customized rubrics to grade virtually any project or paper.
You get to choose the number of grids along with the content to make it fit your classroom perfectly. OR choose from a pre-made rubric and save yourself even more time!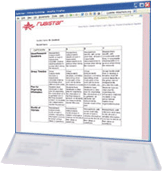 Have you ever used this site before? Was it helpful or just a waste of time? We'd love to hear your feedback!